How to Make Cool Extra Cash Without Stress Using our Child panel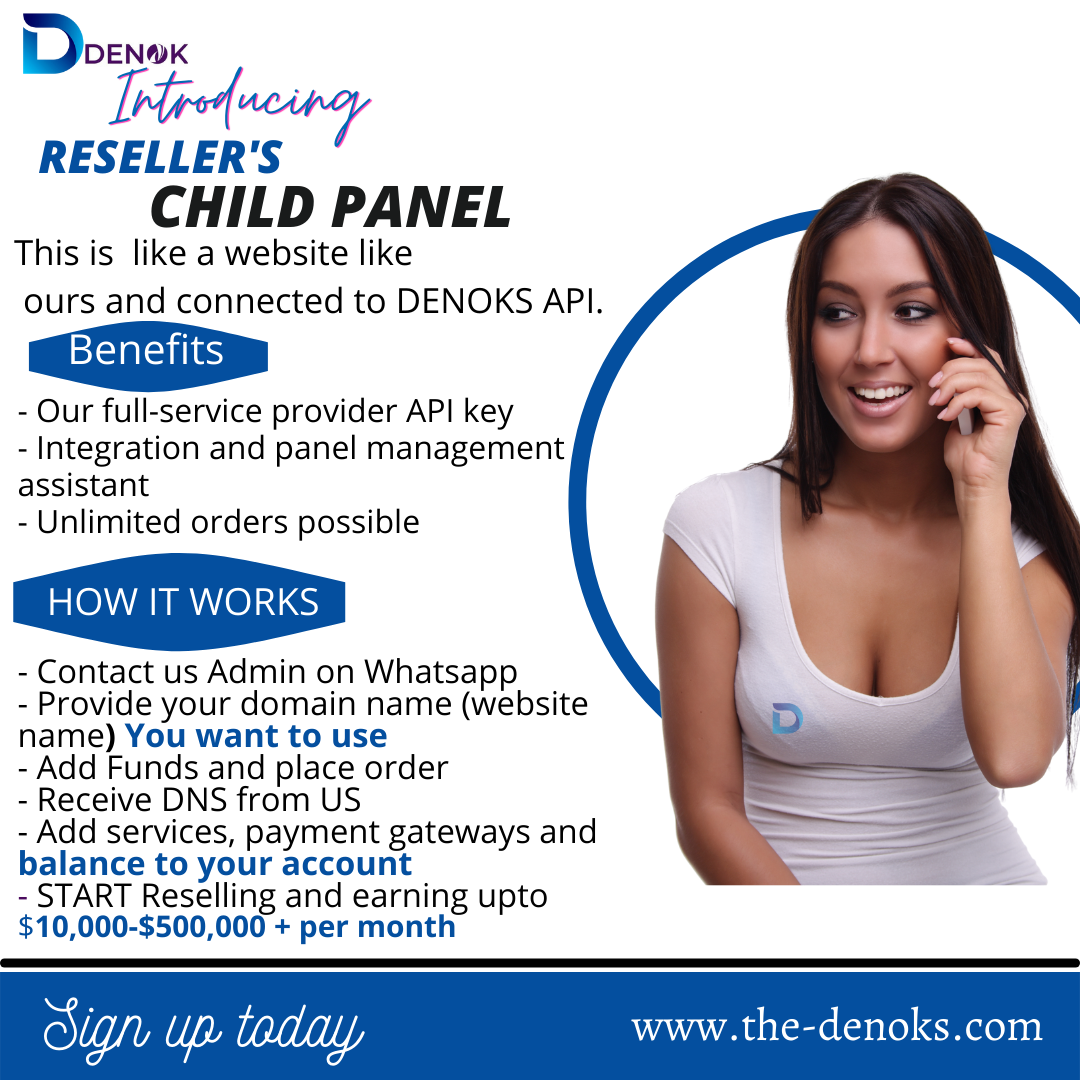 Hello, there!!
We will help you create a website like our own, You will tell us the name of the website you want
You'd pay 15K for set up plus the first month rent. Afterwards, you'd start paying 10K monthly for rent
People can order from your website, all our services will be listed on your own website
You resell our services and you can add your own price plus we will add discount for you.
All payments your customers make will be to your own account, you will have a payament gateway, you just make sure you always load funds to your Denoks account so once your customers make purchase from your website it automatically deduct our cut from your Denok account.
The Price for it is N15,000 for full of our service list API key.
Resellers Panel No Setting fees
N10,000 Per Month Rent Payments
Benefits:
-Our full-service provider API key
-Integration and panel management assistant
-Unlimited orders possible ( WITH YOUR WALLET FUND )
HOW IT WORKS?
-Contact us Admin on whatsapp +2349037556247 ( Only for childpanel purpose )
- State why you are texting immediately
-Provide your domain name (website name) you want to use
- We will request few information from you.
- We will work on the website.
-Add services, Payment gateways and balance to your account.
-START Reselling and earning up to $10,000-$500,000+ per monthly
Make Cool Extra Cash Without Stress ZERO starting capital
LOOKING FOR AN ONLINE HUSTLE?
This is the best option for you [WITH ZERO STRESS]
You can use the Denok website to make cool cash every day, by selling Instagram followers, likes views, and many other services to your friends and family.

BEING A DAILY EARNER JUST GOT EASIER.
With DDENOK Media,
- You can become financially independent by earning 10-50k daily.
- Be a social media marketer by boosting social media handles like Facebook, Instagram, and YouTube.

For example, you can charge 2,000 Naira for boosting 600 followers to an Instagram account that you'll deliver from our website with less than a thousand naira. you see now? you have just make a cool profit without any stress.

SOME OF OUR SERVICES INCLUDE⤵️
• Facebook likes
Facebook views
Facebook followers
• Instagram likes
Instagram views
Instagram followers
• YouTube likes
YouTube subscribers
YouTube views
And many more.

For more inquiries, Contact us on whatsapp using the whatsapp icon on our website.